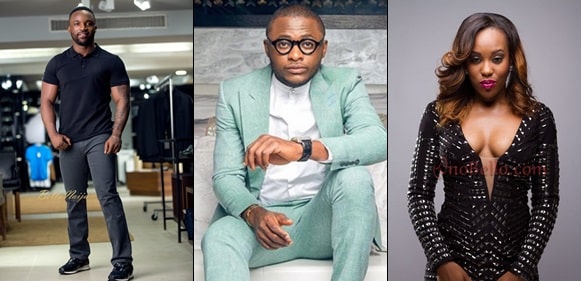 One time Nigerian A-list singer, Iyanya Onoyom Mbuk, simply known as "
Iyanya
" has shared that his former record label mate,
Emma Nyra
, once suffered physical abuse from record label owner,
Ubi Franklin
, during their time the MMG record label.
Iyanya who made this revelation during an interactive session with Joey Akan shared that he asked Emma to leave since she was being treated with disdain.
In his own word:
My own advice to Emma at the time was: "Yo, if the nigga is treating you like this, I'd support you to leave." But sometimes when you give people that kind of advice, they may think you've actually been wanting them to break up since
You understand me? Instead of seeing you trying to save them. Cos I was like; 'look, this shit is getting out of hand man, we no know the next one wey go happen where they go hit your head somewhere you die.' Before that time, I dey tell her say, report to your parent. let your parents step in. She no dey tell them, because them too don't dey get their relationship, so it was almost like, Emma is a real one. Emma na Akata. (Local slang for black American Woman). And you know say akata dem dey loyal. Akata girl, her boyfriend fit beat am now, enter this dining here dey do cocaine. Akata go enter here tell am say 'You motherfucker, the cops are out there, get your shit'. You understand, but naija babe no dey loyal reach like that. So she just feel say ok.
Singer, Iyanya also promised to give Emma Nyra his full support, after he witnessed Ubi Franklin (who she was dating then) assault her. See what he said below;
You know him ehn, he always has his 'bro i'm sorry.., you know…it happened…and it happened because I was not very sure.' I was not very what? You brought me a paper and I signed it. You took the one I signed and did whatever you did and put your own. Long story short, we went back and forth they now corrected it. But by that time, I don already give up on everything. I con dey live with one kind fear say men, this guy can actually kill you. If this nigga dey watch you dey spend all this money, this nigga dey watch you dey put in all this creativity, this nigga dey watch you dey do all these things, this nigga know say you get two sisters wey you dey take care of wey no get papa.
This nigga knows all this poo but this nigga still kinda thing. So if say, God no use me save us for that flight, all of us go die, him family go enjoy all my sweat. At that point too, the label was shaking. People didn't want to invest because people don already know the story. You know, from that day till I left Triple MG, Ubi was my enemy, but we dey together. I played safe because I saw what he did to Emma Nyra. I saw how he oppressed her when she left him. You understand? I saw all the stunts wey him go dey do. You know how all this industry poo dey be